Croatia's transport connections
Transport in Croatia
Transport in Croatia relies on several main modes, including transport by car, train, boat and plane.
Road transport incorporates a comprehensive network of state, county and local routes augmented by a network of highways for long-distance travelling. Road infrastructure is by far the most developed in Croatia, with nearly 27,000 km of roads including just over 1,400 km of motorways. Motorways in Croatia applies to dual carriageway roads with at least two traffic lanes in each driving direction and an emergency lane. The list of completed motorways is as follows (see individual articles for further construction plans and status):
A1, Zagreb – Bosiljevo – Split – Ploče (E71, E65)
A2, Zagreb – Krapina – Macelj (E59)
A3, Bregana – Zagreb – Lipovac (E70)
A4, Goričan – Varaždin/Čakovec – Zagreb (E71)
A5, Osijek – Đakovo – Sredanci (E73)
A6, Bosiljevo – Rijeka (E65)
A7, Rupa – Rijeka bypass (E61)
A9, Umag – Pula (E751)
A10, A1 Ploče interchange – Metković border crossing
A11, Velika Gorica – Lekenik
The Pelješac bridge is a cable-stayed bridge that connects the peninsula of Pelješac, that provides a fixed link from the south eastern Croatia semi-exclave to the rest of the country. The purpose of the bridge is to achieve the territorial continuity of the Republic of Croatia by connecting the southern exclave comprising the bulk of Dubrovnik-Neretva County with the remainder of the Croatian mainland. The bridge spans the Pelješac Channel between Komarna on the northern mainland and the peninsula of Pelješac, thereby passing entirely through Croatian territory and circumventing any border crossings with neighbouring Bosnia and Herzegovina at Neum.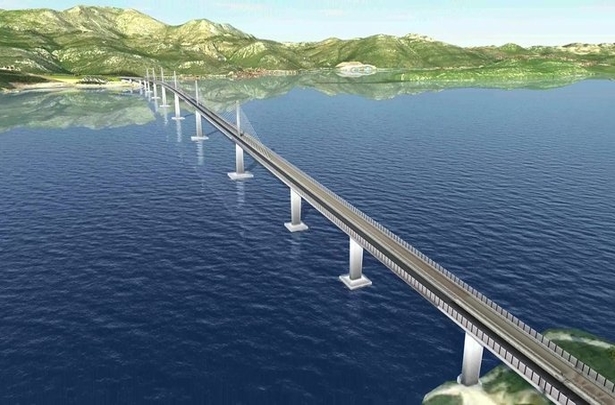 Water transport can be divided into sea, based on the ports of Rijeka, Ploče, Split and Zadar, and river transport, based on Sava, Danube and, to a lesser extent, Drava. An extensive system of ferries, operated by Jadrolinija, serves Croatia's many islands and links coastal cities. Ferry services to Italian cities of Venice, Ancona, Pescara and Bari from around a dozen of Croatian sea ports, most notably Rovinj, Rijeka, Zadar, Split, Korčula and Dubrovnik, is available on a daily or weekly basis. From April to September the schedule is denser and can include several round trips within a day.
Croatia has 68 airports, nine of which are international (Zagreb, Split, Dubrovnik, Zadar, Pula, Rijeka (on the island of Krk), Osijek, Bol and Mali Lošinj). The country also has several airlines, of which the most notable are Croatia Airlines and Trade Air.
Rail transport is fairly developed, with dual track and electrification not very common, although high-speed tilting trains are used on some routes. However, bus still tends to be more common than rail as a mode of inter-city transport. In contrast to the fairly underdeveloped rail traffic, buses represent the most-accepted, cheapest and widely used means of public transport. National bus traffic is very well developed and it is very easy to reach even the remotest parts of Croatia by bus. Almost all buses on national routes are air-conditioned and offer pleasant traveling comfort.
Croatia's transport connection with the EU and the world
Croatia is located on some of the main north/south and east/west European traffic routes. Croatia has 2 Core Network Corridors crossing its country:
The Mediterranean Corridor links the Iberian ports of Algeciras, Cartagena, Valencia, Tarragona and Barcelona through Southern France, with link to Marseille, and Lyon to Northern Italy, Slovenia and a branch via Croatia to Hungary and the Ukrainian border. It covers rail and road, airports, ports, RRT's and, in Northern Italy, also the Po river inland waterway. The key projects are UIC standard gauge railway lines in Spain, the Lyon –Turin railway tunnel and the Karst crossing Trieste/Koper – Ljubljana.
The Rhine-Danube Corridor, connects Strasbourg and Mannheim via two parallel axes in southern Germany, one along Main and Danube, the other one via Stuttgart and Munich, and with a branch to Prague and Zilina to the Slovak-Ukrainian border, through Austria, Slovakia and Hungary to the Romanian ports of Constanta and Galati. It covers rail, road, airports, ports, RRT's and the inland waterway system of Main, Main-Danube Canal, the entire Danube downstream of Kelheim and the Sava river. The key projects are removing the bottlenecks along the inland waterways and the railway sections Stuttgart – Ulm and München – Freilassing.
Find your route to Croatia here.
Learn more about Croatia's location and climate here.